Recent Exmark Mower and Product Innovations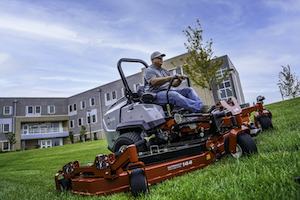 144" Lazer Z Diesel
Raises the bar for productivity and cut quality
Capable of cutting a full 12 feet of turf with each pass, or 11.5 acres every hour, the new 144-inch Lazer Z Diesel delivers the productivity and extreme durability today's landscape professionals need to finish jobs more efficiently, with Exmark's signature cut quality.
---


Vertex Stand-On Mowers
Enhanced maneuverability and ergonomics
All new for 2022, the Exmark Vertex stand-on zero-turn mowers deliver the durability, cut quality and simplicity landscape professionals expect from Exmark. Every detail was considered to make Vertex easy to operate, simple to maintain and reliable as the day is long.
---


Lazer Z X-Series with Vanguard Oil Guard System
Increased uptime with reduced maintenance
At Exmark, we're always looking for innovations that increase mower uptime and decrease necessary in-season maintenance. That's why we've introduced the Lazer Z X-Series zero-turn mower with the Vanguard Oil Guard System. It extends oil change intervals to an incredible 500 hours, while also lowering engine oil temperature by 20-30 degrees.
---


Radius X-Series
Delivers performance and value
The 60" Radius X-Series is now armed with a powerful Kawasaki FX921V commercial engine delivering mower power while providing the cut quality you expect from an Exmark.